Thanks for learning with us!
It's an honour to learn and lead with you. We're so curious to see how you apply your learning in the coming weeks, months and years! Please keep in touch as you continue your development as facilitators.


— Kevan & Krystal (your facilitators)

Can you give us some feedback?

You've just experienced 3 on-demand classes on the learning platform, as well as 2 live sessions. We would love some feedback on your experience overall, to help us learn how we're contributing to meeting your learning aims.


Deepen Your Learning
Learning facilitation is a journey — one that involves developing your own signature style, taking uncomfortable risks, putting yourself out there in front of people, and dealing with the full range of human emotion.

To support you on that journey, this page is yours to keep — use it as a launchpad for continuing your learning!
It contains many resources, classes, tools, links and materials that can help you along the way.

Steal the material from these past 2 days:
Full agendas in Session Lab

Original slide decks

Mentimeter contributions
These 3 classes were created just for you!
As part of this learning experience, you have access to this material for the rest of the year ahead.
You can take on your own time, maybe if summer is quieter, are they all about facilitating change.
\Learnworlds\Codeneurons\Pages\ZoneRenderers\CourseCards
Read the book on Co-creation
Our 65-page ebook,
"Co-creation: A guide to facilitating change"
is part of your learning package. It contains a deeper look at the mindsets, methods, and model of co-creation, as well as a candid, authentic reflection about the
resistance we face
leading this way in our organization.
Download it here.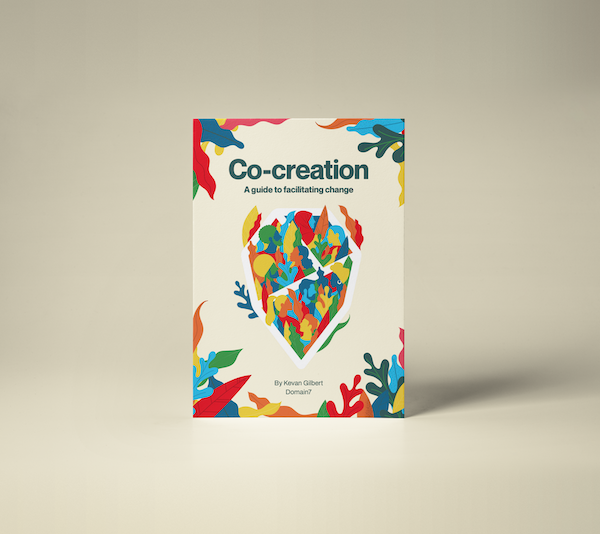 Try the design thinking canvas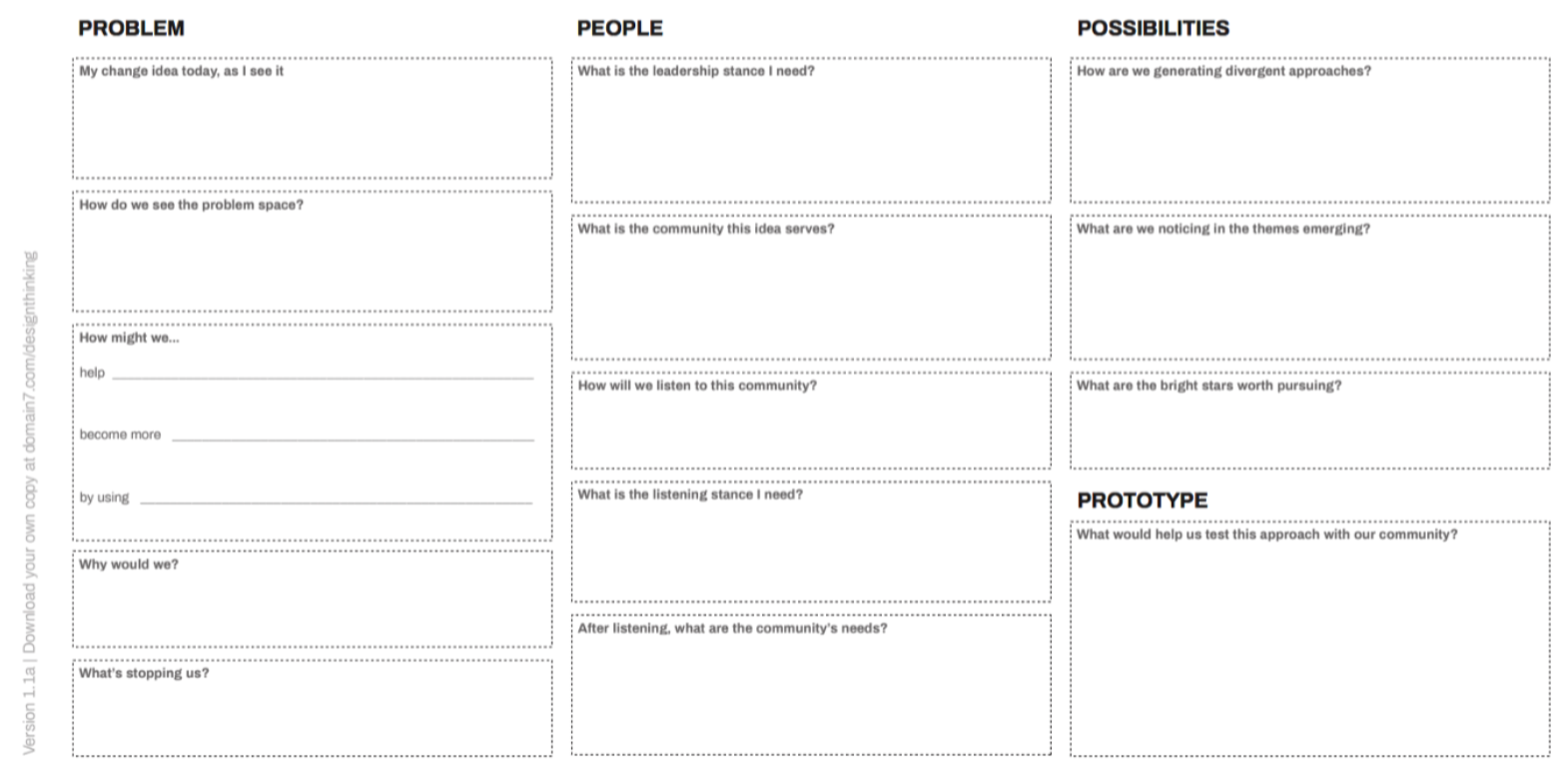 Explore the questions and answers we shared
Sometimes I struggle to jump on to finding the solution without giving enough time to find that middle ground. What suggestions do you have?
It is a classic problem! In fact, it's a product of our education, socialization and training in most Western institutions. We are incentivized, rewarded, and affirmed for our abilities to solve problems quickly. Don't underestimate the challenge in going against so much conditioning!

In what ways are you as a person practicing your ability to slow down? Do you have a mindfulness practice: reading, reflecting, journalling, walking, yoga, mindfulness meditation?

In facilitated sessions, are you ensuring you are leaving enough time on the agenda to truly stay in "divergent" thinking? Use time and design as your guide to stay true to your intention.

In what areas have you observed the benefits of "finding the middle ground"? When it goes well, what has it helped you achieve? Can you consolidate that to a simply purpose or values statement, and post that somewhere prominent?


What are some tips or frameworks that can be used to frame the problem?
The "When Co-Creation Fits" grid asks some healthy questions to help you determine the nature of your problem
The "How Might We" formula gives you three questions to ask
1. Who is the community I am serving?
2. What is the future state we hope for?
3. What are my design constraints?
The "Reframe" tool
from THNK is a healthy way to get underneath a problem, and one's limiting beliefs.
How do you navigate stakeholder and user feedback in the solutions phase while still making decisions quickly and having the individual with the most context remain the decision maker?
Establish your decision-making criteria: Consider conducting a workshop in order to establish your decision-making criteria. Having clear, shared purposes will help you all feel like you can fairly and equitably make decisions, based on a shared understanding of what constitutes a "good decision."

Be clear about the roles: In the Google Sprint format, one specific person is given the role of Decider. They are equipped to make decisions during stalemates or ties. By making it clear that they are indeed the owner of the decision, it helps things move more quickly.

Don't undercut the value of the humans offering feedback: The involvement of others, and the relationships you are building, are also part of the culture you are creating.

Only ask for input when you intend to use it: If you don't intend to use stakeholder input, don't ask for it. Right-size your approach, and only using co-creative methods if it matches your needs.
In synthesis: I'd love to explore or learn some models or best practices when team members come to drastically different summaries from the same data set and how to move forward.
Host a dialogue session to hear from both team members: By listening well to each contribution, it's a chance to understand the value in both approaches. Is this a chance to see things from an alternate point of view?
Consider "branching" the design thinking flow from that point: Treat it like a chance for an A/B test, or prototype. Commission one team to pursue the first interpretation, and another to pursue the second.
Return to the purpose, of both your organization's mission and your team's work: What are you trying to achieve? How might we navigate this stalemate with at purpose in mind?
What processes can facilitate meaningful stakeholder input and engagement while keeping their lift light?
Listen well to understand their aims.
Connect your work with their purpose.
See about offering compensation (gift cards are great).
Remember that involvement often RESULTS in real buy-in and commitment.
Be clear on what the ask is; be respectful of their time.
What are the tools (besides the double diamond) of co.creation and how can we practice them for specific situations we've surfaced?
I've loved the
Hyper Island toolkit
as a starting point. It helps you locate specific agenda and activity designs that solve specific problems.
In general, this is the work of facilitating, and developing your style over the years ahead: gaining familiarity with what tools work best, which ones you like, adapting them to suit your moment. There are so many amazing tools for each part of the double-diamond — the toolkit above can be a jumpstart for your exploration.
How do you make sure that a few voices don't overpower the process of design thinking?
Remember, your whole reason for choosing a design thinking process is to WIDEN input, gather perspectives from the margins, hear from the many and not just the few — you could say this question is your whole job as a facilitator and process designer!
In live sessions, always ensure there is room for all people to process information at the speed that works for them. If possible, provide reading materials in advance. Allow folks time to reflect, think, process and share.
Throughout a process, make it known who actually has the decision making authority — be honest about whether that is democratically shared, or if it sits with one person.
You might find this webinar useful, all about
Practicing Inclusive Engagement.
Learning facilitation is a lifelong learning journey. I'd love to help you any time you need a hand. Drop me a note anytime at
[email protected]
and we can set up a time to chat through any collaboration and co-creation challenges you might be facing.
Kevan Gilbert
Co.school founder and lead facilitator